Grantee Stories
The Billion Oyster Project: The Mollusk That Saved New York Harbor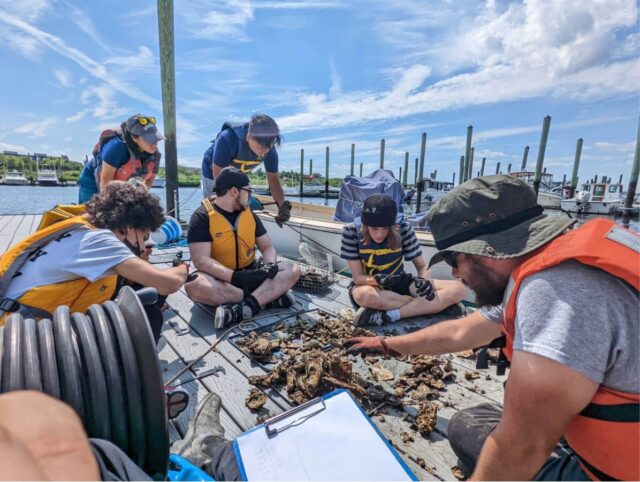 ---
In the 1600s, New York Harbor was one of the planet's most diverse and dynamic ecosystems, with whales, dolphins, seals, and hundreds of other species enjoying the benefits of 220,000 acres of oyster reefs. In less than 100 years, the oyster population was wiped out and little hope was left until around 2000, when water quality, which had deteriorated with the development of the city, improved enough that ocean life could again thrive in New York Harbor. In a virtuous cycle, oysters began cleaning the water themselves (one oyster can clean 50 gallons of water a day), making it safer for other oysters to propagate. In 2014, New Yorkers Murray Fisher and Pete Malinowski presented the question: if a single mollusk holds that much environmental power, what could one billion oysters do? And what if those billion oysters were activated by thousands of community leaders, students, volunteers, and restaurants? Thus, the Billion Oyster Project was born.
Based on Governor's Island, the Billion Oyster Project (BOP) is committed to restoring oyster reefs to the New York Harbor. Oyster reefs provide a habitat for many marine species, filter water, and help shield New York City shorelines from storm damage and the adverse effects of the climate crisis. Founded on the belief that restoration works best alongside education, BOP educates public school students, volunteers, community scientists, restauranteurs, and many others about New York City's rich oyster history, and empower them to lead the movement to restore the mollusks to New York's waterways.
Since its inception, BOP has remained steadfast in its mission to restore one billion oysters to New York Harbor by 2035.
Since its inception, BOP has remained steadfast in its mission to restore one billion oysters to New York Harbor by 2035. Today, in partnership with volunteers, students, and community leaders, the Project sets 50 million oysters into local waterways per season. To date, BOP has restored over 135 million live oysters to New York Harbor, collected 2 million shells for baby oysters to call home, and engaged more than 11,000 New York City students. The New York Harbor is now the cleanest it has been in 100 years, thanks in part to this effort.
BOP and Overbrook grantees like it safeguard and restore ocean ecosystems that are critical to a sustained and healthy Earth. Through its Coastal Restoration program, The Overbrook Foundation supports this and other innovative nature-based solutions that both restore ocean ecosystems and provide sustainable economies for coastal communities, creating demonstrable impact, and presenting a model for sustainable change.