Grantee Stories
Amazon Conservation: Peru, Colombia, and a Technology-Meets-Policy Approach to Deforestation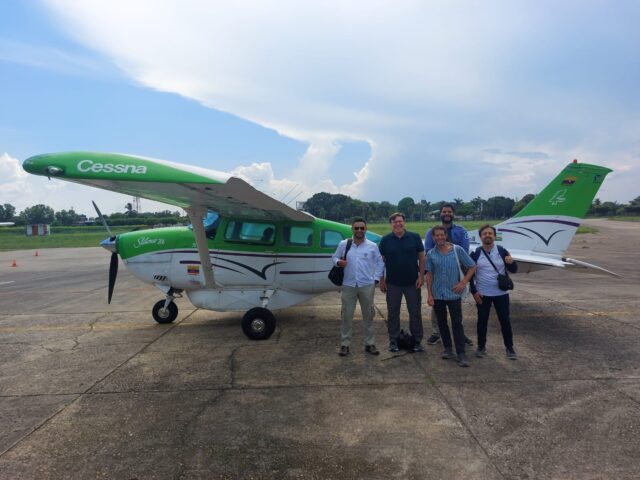 ---
Amazon Conservation has worked at the forefront of conservation in the Amazon for over 20 years, combining the power of technology and locally driven action to combat tropical deforestation. Chief among its efforts has been the Monitoring of the Andean Amazon Project (MAAP). MAAP uses satellite technology to track and report deforestation and some other illegal and ecologically harmful activity in real-time, making enforcement operations timelier and more impactful.
Amazon Conservation's pilot of the MAAP project in Peru has been instrumental in rapidly identifying and helping communities and governments address illegal gold mining, largely thanks to its unique synthesis of technology, reporting, and, importantly, action. The Peru pilot showed how critical it is to focus on each unique cause of deforestation, create timely policy, and root the work in trust and partnership with local organizations. One of the most valuable parts of the MAAP approach is the ability to tell the difference between forest fires and other types of deliberate human-caused deforestation. When deforestation from cattle ranching or mining occurs, there are ways for governments to quickly intervene, which is usually not the case with a planned or unplanned forest fire. MAAP's technology is able to recognize this important difference, and its strong local relationships create an almost immediate pathway for alerting responsible parties, including government agencies, conservation organizations, and the media. The MAAP model's unique blend of technology, process, and partnerships represents an unprecedented approach to immediate action against deforestation.
After piloting the project in Peru, MAAP now covers all nine countries of the Amazon biome. Amazon Conservation's current growth priority is developing the Project in Colombia, a country with high biodiversity and stable governance, but also ripe for deforestation. MAAP's rollout in Colombia will build directly on lessons learned in Peru, and will involve working with Colombian partners to provide real-time monitoring for key protected areas and indigenous territories and quickly providing information to authorities for action on the ground.
The Overbrook Foundation has been committed to conserving forests and biodiversity in Latin America for more than 20 years. Through the critical work of grantees within our Stand for Forests program, including Amazon Conservation, Overbrook seeks to go beyond activism to supporting the science, policy, and dialogue needed to stop unnecessary deforestation.